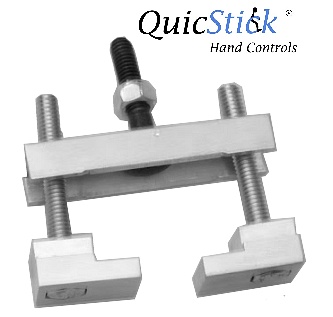 Description
This clamp will replace the original clamp that comes with QuicStick. This will allow you to use the QuicStick with any Toyota vehicle. It can also be use with other vehicles but it was design specially for newer Toyota Models
This clamp will replace the original clamp that comes with QuicStick.
This controls were designed for newer non american vehicles. Newer non american vehicles have a curved gas pedal with a plastic piece on the back of the gas pedal. If you are not sure, please see the back of your gas pedal. If the back part of the gas pedal has a curve with a bulky plastic piece than you do need this part.Non American Vehicles:Toyota, Lexus, Nissan, Kia, Mazda Others
It's what you're looking for
Helpful and friendly Customer Service saved me money on a great product. Isn't that what you're looking for?
Works fine on my 2004 Jeep Liberty
I got this clamp for rental cars (which are usually foreign). Today I tried the clamp on my 2004 Jeep Liberty. It worked fine.
Hard to install and puts too much weight on the gas pedal
The non-American gas pedal clamp is really hard to get all the pieces straight and tighten the wing nuts, need 4 hands!! Also, installed on a Lexus and it puts too much weight on the gas pedal, I have to ride the brakes to not go too fast.
gas clamp adapter
Not hard to hook up to car. Will take time and practice to get used to not using pedals. Have driven twice. My wrist was sore the first time but I was nervous and tense. Gas clamp adapter was simple to replace the clamp that came with the driving sticks and everything seems solidly made.
Clamp for Prius Gas Pedal
eThe clamp attaches perfectly and works just fine.