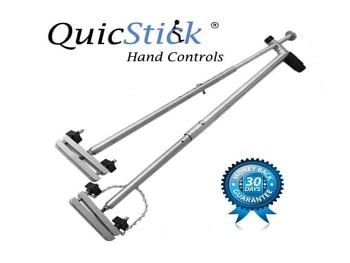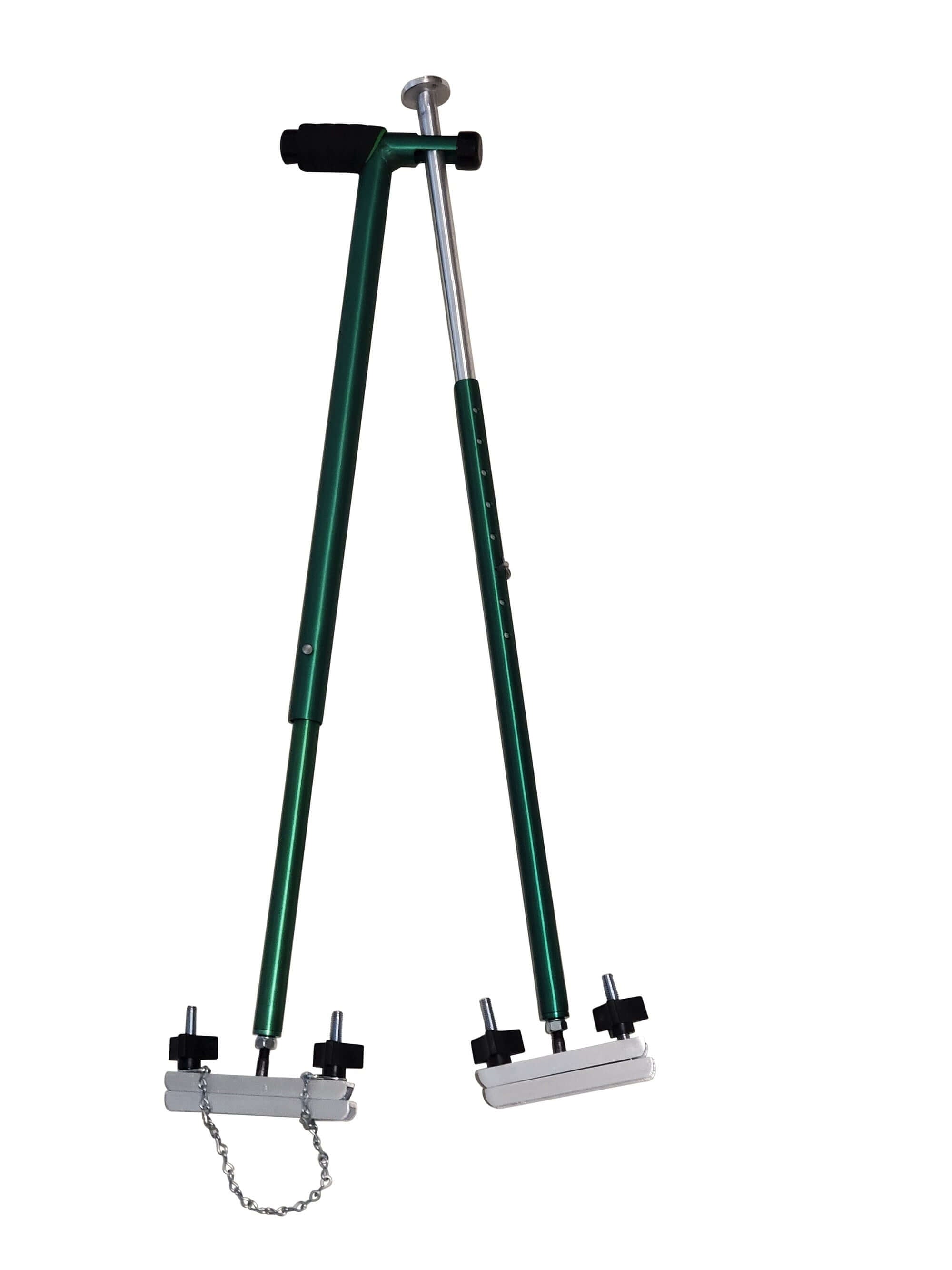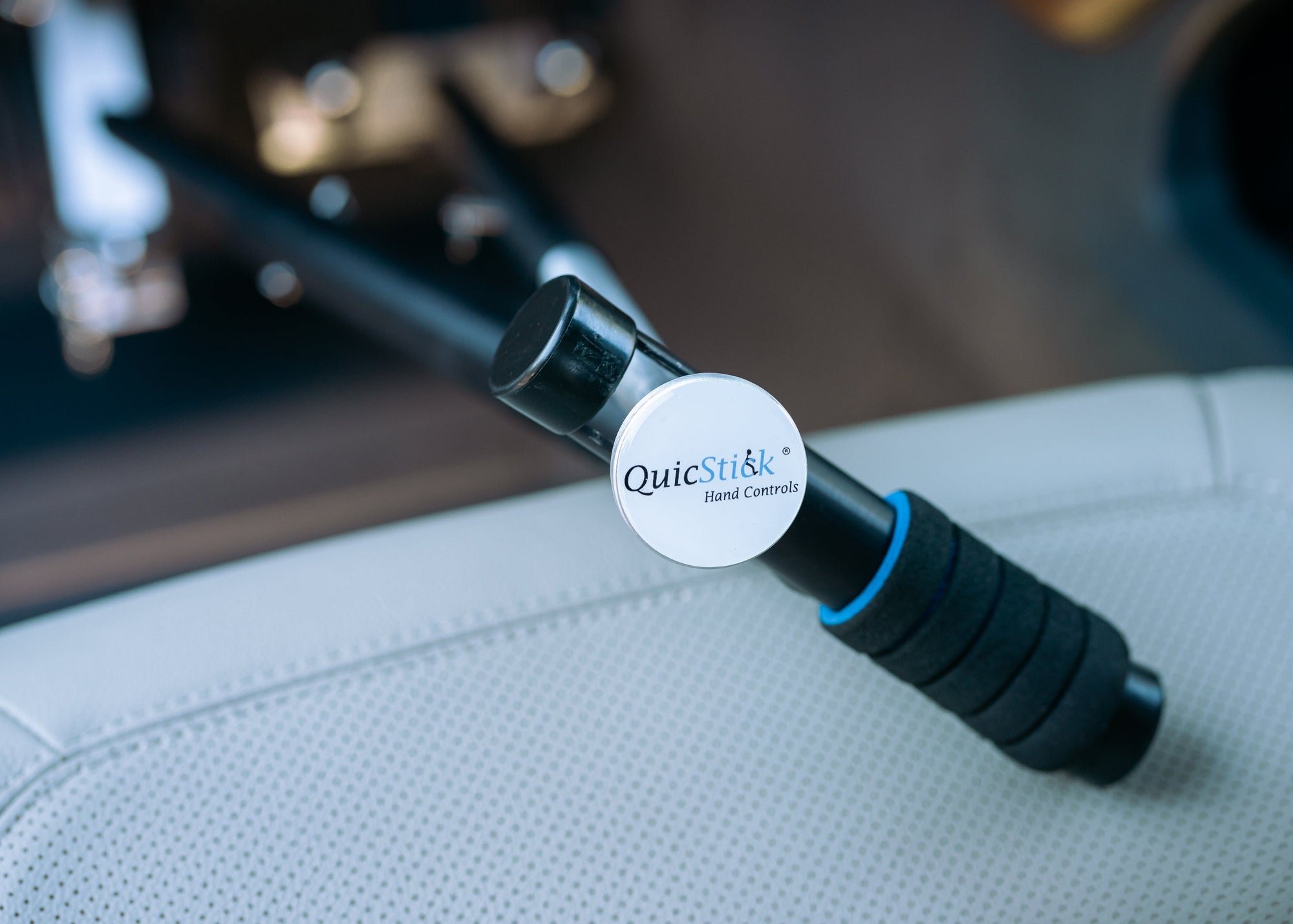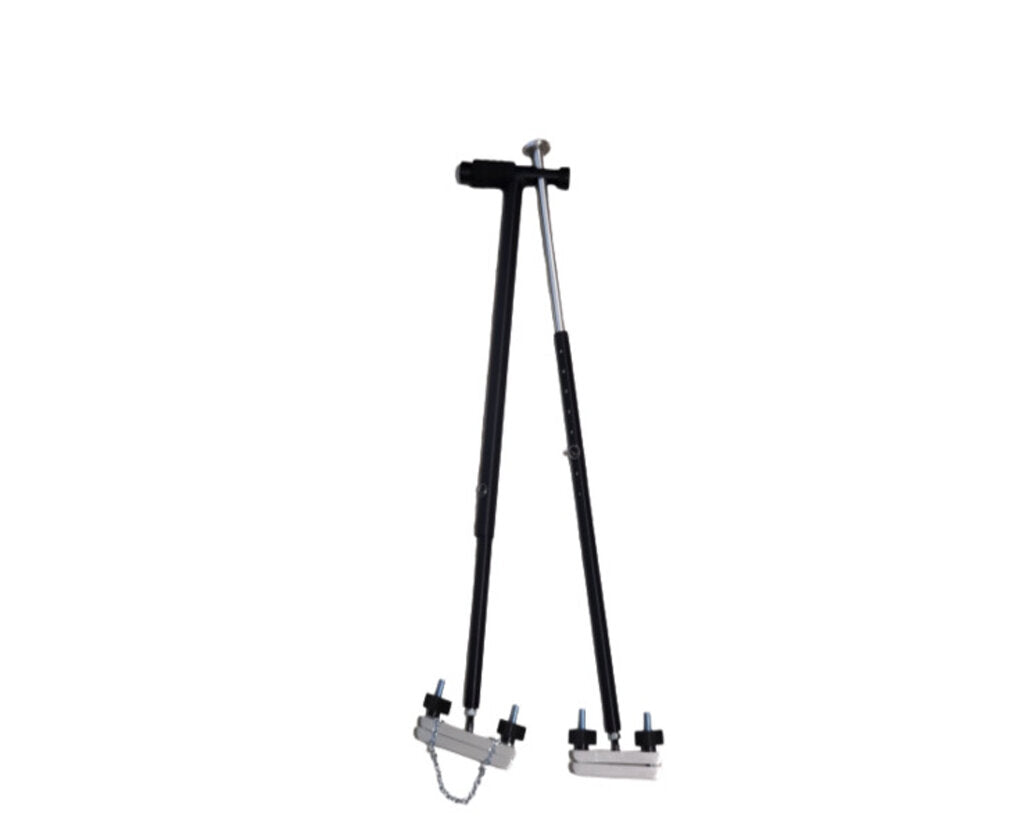 Description
Install in less than 5 Minutes
Light Weight , Durable, Comfortable, and Easy to use.
30 Day Money Back Guarantee


Comes pre-assembled – No tools needed

Quality T-6 aerospace aluminum construction

Adjustable for any driver and virtually all vehicle types

Fast installation and removal with quick connect hardware making it great for traveling, long road trips or every day commute
These quality hand controls affix to your vehicle's pedal in less than 5 minutes and fit virtually any vehicle type.  Great for your daily driver or use when traveling. Use with automatic transmissions only.  Simply bolt onto your brake pedal and accelerator pedal and have full control at your fingertips.
QuicStick hand controls - your ultimate hand driving solution. We're an established USA brand since 2008, with over a decade of expertise creating innovative hand controls for disabled drivers with a goal to redefine accessible mobility with unparalleled precision
Designed for virtually every type of vehicle, these hand gas and brake controls empower you to drive effortlessly
With a lightning-fast and effortless installation, you'll be ready to hit the road in no time.
These hand gas and brake controls are crafted from lightweight yet robust T-6 aerospace aluminum, the controls guarantee durability, comfort and reliability.
These hand controls for handicapped drivers come pre-assembled, require no tools, and are designed for right and left-handed drivers. Their versatility extends to fit virtually all vehicle types, making them an ideal companion for your everyday commute, long road trips, or travels.
As a testament to our commitment to your satisfaction, enjoy a remarkable 99% customer satisfaction rate and the assurance of a 30 Day Money Back Guarantee. Effortlessly control acceleration and braking . Our hand controls for driving a car come with an instruction manual to ensure a hassle-free setup.
Elevate your driving experience with QuicStick – where innovation meets accessibility. Secure your set today and drive with newfound confidence.
Get your QuicStick hand controls.
Thumb control
I can see from my hour or so of practice driving that the thumb will tire due stop and go traffic. I suppose it will be fine on the open road if conditions allow for cruise control, but the purchase price is good! I would otherwise rate the product a four star. It is the thumb issue that concerns me.
QuicStick Portable Hand Control for Left and right Hand Drivers #1 Product
This is the only way I can st Drive
It's works great in stop and go traffic when I can move my leg
quicstick
Seems well made. Easy to hook up to car. Helps make acceleration and braking smoother for me. I feel safer driving knowing exactly which pedal is securely being pressed. No problems on highway or curvy roads. Not using my feet is strange but I feel safer and in better control driving. My wrist was sore on first drive, but less on next drive. Makes driving enjoyable again.
Ease of use & install
I'm unable to walk at this time. The quicstick product was as easy to install as advertised.
It's pretty easy to use. I suggest practicing in low traffic areas to get used to the hand controls. Practice pulling into and backing out of parking stalls.