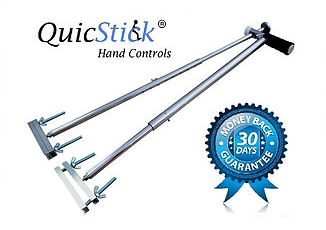 Description
Used QuicStick Hand Control. Refurbished units might have significant scratches.
All of our refurbished units pass by quality control inspection.
All units must be disinfected, foam replaced and new box and tools.
Install in less than 5 Minutes
Light Weight , Durable, Comfortable, and Easy to use.
Free Shipping

30 Day Money Back Guarantee

Comes pre-assembled – No tools needed

Quality T-6 aerospace aluminum construction

Adjustable for any driver and virtually all vehicle types

Fast installation and removal with quick connect hardware making it great for traveling, long road trips or every day commute
These quality hand controls affix to your vehicle's pedal in less than 5 minutes and fit virtually any vehicle type.  Great for your daily driver or use when traveling. Use with automatic transmissions only.  Simply bolt onto your brake pedal and accelerator pedal and have full control at your fingertips.
Best investment I have ever made!
I'm a right leg amputee getting by with a left foot gas pedal. Not your best idea when you are a right-handed person. Finally found Quick Stick and got used to it in 5 minutes. Best decision I ever made!!
They work well and are perfectly legal
I have a spinal cord injury and have been using hand controls for over 25 years. These are super simple to install. I did it myself on my new 2018 Honda Odyssey. They work well and stay in place as long as you crank the wing nuts tight. I'm using them as temps and will have Sure Grips installed shortly, but I will keep these for travel and car rentals for sure.
** The laws around hand controls are simply this: The driving assist mechanism can not alter the way the vehicle was originally intended to operate.
Don't let anyone tell you that these are not legal. They're perfectly legal and insurance companies can't fault them without cause. There is a risk, when using these, because they're not permanently installed. If the clamps slip off a pedal and contribute, or cause, an accident then they are at fault ... but it's no different than an able bodied person slipping and missing the brake or hitting the gas with their foot. In the end it's just another risk that you need to evaluate for yourself.